Behind the doors...In The Media....News & Announcements
The healing process starts right from the time you enter!
Our center is designed aesthetically with the customer delight in mind creating an ambiance that imparts a feeling of calmness and peace. Our center is equipped with one consultation room, three treatment/massage rooms (luxury suite, deluxe and ordinary), retail space, a fully equipped 1000sq ft hall ideal for yoga, meditation, art studio, music classes etc.
A True Visual Feast - The centre showcases the creativity and talent of Mrs Raji Govardhan's mesmerising artwork. The centre's signage board being her Masterpiece. Care has been taken to make the Centre appear traditional, warm and natural, with all its interior designing as well landscaping handled completely by staff of Om Vedic Heritage Centre.
NEWS & ANNOUNCEMENTS
About Us
Om Vedic launched its 3rd Outlet AyurVeda Pharmacy (AVP), in the East, on 20 th Feb 2016 at 55 Siglap centre, B1-18, Singapore
Om Vedic launched its 2nd Outlet "AyurVeda Pharmacy (AVP) on 11 May 2014 at 8 Belilios Lane, Singapore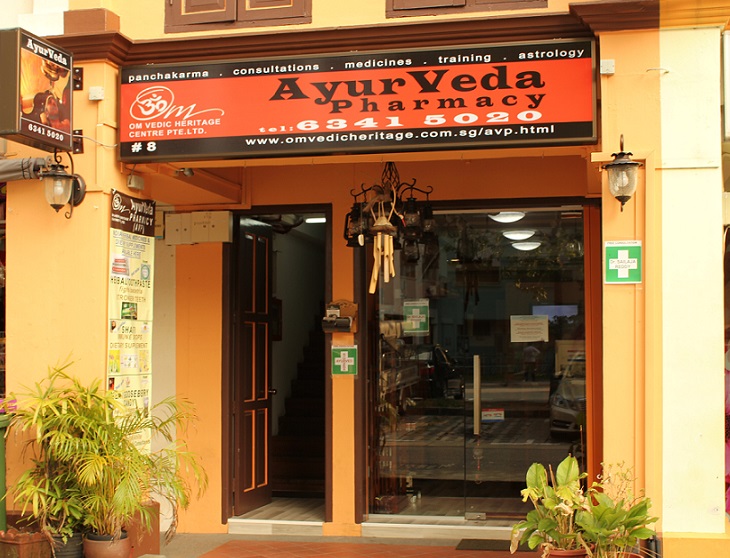 OM VEDIC Launched Om Vedic Training Centre on 17 October 2014
OM VEDIC featured on Vasantham Central's "ETHIROLI" 27 Feb 2013 (Singapore's only National Tamil TV Channel)
INTRODUCTION to AYURVEDA & HANDS-ON W0RKSHOP: JAN & FEB 2012
SINGAPORE-DBS Singapore Indian Entrepreneur Awards 2011: Shailu Suresh, Director, Om Vedic Heritage Centre among top 5 finalists of "Promising Entrepreneurs 2011"
Download
Om Vedic Heritage Centre was featured in the book "Best of Singapore, 2011 - Vol4, page 142"
Please click the link below to read ebook.
Episode - 1 Eye Strain
Dr Derrick Siu finds 2 candidates: Bridget and Elizabeth, both are middle managers,
both suffering from severe eye strain.
They check out Chiropractic, Naturopathic and Ayurvedic treatments.




Episode - 2 Lethargy
Find Me a Cure Apart from rest, coffee, walk abouts,
what else can a busy executive do to combat lethargy?
Dr Derrick Siu checks out TCM, Osteopathy and Ayurvedic treatments.






Episode - 4 Gastrointestinal Disorders
These are just Gastrointestinal Disorders that plagues the busy executive.
A solution may be at hand but it does take guts to go through the treatment.
Join me, Dr Derrick Siu in Find Me A Cure.




Om Vedic Heriatge Center featured in Tabla, 17-Dec-2011
Ancient Indian treatment makes a comeback
To FOREIGNERS it is a discovery to Indians it is a rediscovery
More and more people are realizing the benefits that
Ayurveda can bring to their lives…